Seven Scrumptious Pittsburgh Soups To Warm You Up
PM Dining Critic Hal B. Klein is on the soup chase and he's rounded-up a bowlful of international soups to ease the transition into the chilly months.
There's no such thing as soup season — hot brothy dishes (as well as cold brothy dishes) are enjoyable any time of the year. But with temperatures cooling down, even dipping below freezing for the first time since April, it's prime time to celebrate the joy of Pittsburgh's soups. These seven soups resonate with me for various reasons. Some are restorative, some are nutritious, some are luxurious. All of them are delicious.
African Cuisine: Fresh Fish Pepper Soup
The fresh fish pepper soup at African Cuisine in Squirrel Hill appears minimalist; it's a hunk of fish tail in a slightly murky sepia broth. It's also a lesson in how looks deceive, as this is one of the most beguiling bowls of soup in Pittsburgh right now. The fish is lovely — fresh, meaty bone-in sea bass. But it's the heady broth that really gets me — fish stock enhanced with an assortment of smoked and dried hot peppers, aromatics including ginger and garlic, herbs such as lemongrass and thyme and spices (many of which owner Saudat Lawal imports from Nigeria) such as grains of paradise, black cardamom, calabash nutmeg and coriander. It's a dizzying spoonful of heat, fragrance and savoriness that will clear your sinus and energize you for whatever comes next in your day.
2032 Murray Ave., Squirrel Hill; 412/307-0295, africaneatscuisine.com
---
Kavsar Halal Restaurant: Borsch
Kavsar Halal restaurant, the Uzbek restaurant opened by Hayrullo and Tahmina Umaraliev in 2014, is Pittsburgh's low-key soup haven. The Mount Washington restaurant has eight to 10 house-made soups on the menu at any given time, all reflecting the rich culinary traditions of the Silk Road country that sits on the crossroads of Asia and Europe. Of those soups, borscht (listed as borch on the menu) is my favorite, though I'm also a big fan of Kavsar's mastava, a classic Uzbek beef, vegetable, rice and chickpea soup. Borscht is a polarizing soup, and that ought to change because it's nourishing and delicious. Kavsar makes my favorite version in Pittsburgh. Here, the beet-forward soup has a beef broth base (some varieties of borscht are vegetarian, but this one isn't) and melting chunks of beef, beets, cabbage, potato and carrots. There's a nice edge of vinegar, and a dollop of sour cream adds smooth tanginess to the soup. Kavsar's dining room is currently closed; all orders placed online or by phone are for takeaway.
16 Southern Ave., Mount Washington; 412/488-8708, kavsar.company.site
---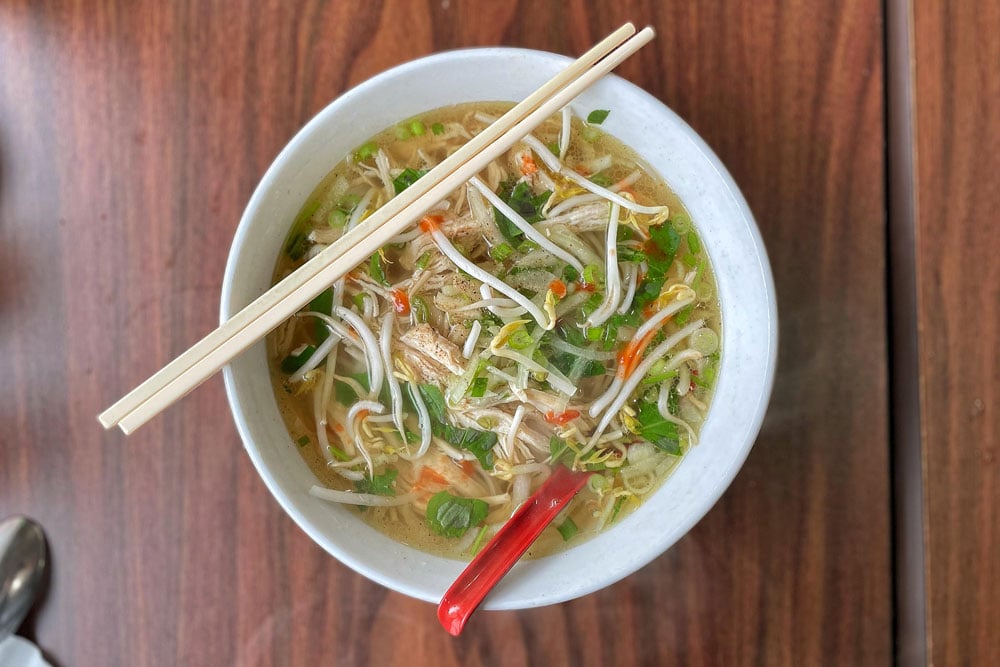 Tram's Kitchen: Pho Gà
Tram's Kitchen, owned by Le Thao and Truong Bac Cuc, began serving Pittsburgh tasty Vietnamese cuisine, including a variety of pho, in 1997. I dig the various beef pho they prepare, but Tram's chicken pho (pho gà) has long been my favorite dish at the restaurant. The fragrant bowl of chicken broth is chock full of tender pieces of chicken meat, rice noodles and crunchy raw onions. I like to bolster mine with a couple dashes of fish sauce and a spoonful of garlicky hot sauce and, of course, garnish it with the jalapeño peppers, Thai basil, cilantro and bean sprouts that are served alongside the soup. Here's some exciting news and might cue a Tram's revisit if it's been a while since you've stopped by this classic Pittsburgh restaurant (and a prompt for those of you who have never been): When I dined there the other week, Tram's felt as if it were going through a revival of sorts — the energy in the small dining room was terrific … and the pho gà was the best I've ever had it prepared there.
4050 Penn Ave., Bloomfield; 412/682-2688
---
Dish Osteria and Bar: Maccu di Fave
The beauty of most of the dishes at Dish Osteria and Bar is rooted in how executive chef/co-owner Michele Savoia embraces the philosophy that honest celebration of quality ingredients is the core of a delicious meal. The most recent expression of his Sicilian culinary roots is maccu di fave, a fava bean soup added to the menu when the beloved restaurant reopened in late September. It's proved so popular that Savoia says it's a new mainstay at Dish (and the first significant menu change of Dish 3.0). Savoia simmers dried Sicilian fava beans with fennel, onion and garlic, strains and purées the cooked beans and aromatics and then mixes in enough of the flavorful bean stock to achieve a silky consistency. The vegetarian soup is garnished with ricotta salata, fennel fronds and olive oil prior to serving. It's earthy, nutrient-dense and wholesome, and I'm glad it's now part of the regular rotation (though I'm also looking forward to the return of the saffron-spiked zuppa di vongole, clam cockles soup).
128 S. 17th St., South Side; 412/390-2012, dishosteria.com
---
Sagun Asian Restaurant: Mutton Soup
Pittsburgh's Bhutanese refugee community has opened a handful of restaurants specializing in Bhutanese-Nepali cuisine over the past few years. The most recent addition to these South Hills restaurants is Sagun Asian Restaurant. Owners Sachin Kunwav and Deepshika Ghimire opened the establishment in Baldwin Borough in July. Over the last few months, they've added a bunch of items to their menu, which early on was limited chiefly to momo (they serve my favorite local version of the Himalayan dumpling). I had a bowl of mutton soup the other day — digging into the earthy, warmly spiced (and slightly spicy) soup with chunks of organic mutton simmered in a blend of tomato, onion and chili purées, turmeric and garam masala was just what I needed on a crisp, sunny autumn afternoon; there's a lighter, tangier chicken version that's just as enjoyable, too.
4871 Clairton Blvd., Baldwin Borough; 412/668-0357
---
Everyday Noodles: Pork with Pickled Mustard Greens Soup
Pork with pickled mustard greens ranks up there with matzo ball as my comfort food soup. There are several tasty versions of the pan-Chinese soup around town, but my favorite comes from Everyday Noodles. "That soup, more than any other restaurant item in Pittsburgh, became my go-to when I felt the lonesome blues of physical-distancing measures," I wrote about that soup in Pittsburgh Magazine's 2021 Best Restaurants list. Whether you're feeling lonesome or not, there is salvation in slurping chewy hand-pulled noodles from the pork- and chicken-stock broth, where rich bits of pork balance nicely with the slightly fermented tang of bitter mustard greens. I love crushing a bowl of it at the restaurant and also appreciate how Everyday Noodles packages components in separate containers so it's perfectly primed for assembly when you get it for takeaway.
5875 Forbes Ave., Squirrel Hill; 412/421-6668, everydaynoodles.net
---
Brothmonger: Soup of the Week
Sarah McAlee, a funeral director by day, started Brothmonger in 2018 as an outlet for her culinary passions. She quickly built a following for her cottage business and moved her operation to Mayfly Market on the North Side in March. She prepares at least two varieties of soup every week — one is always vegan or vegetarian — and they are available fresh and frozen at the market. McAlee dances across the globe with her offerings and has a feel for the seasons (and uses produce from local farms). McAlee's curiosity and range mean you'll find everything from light vegan curry lentil soup with cumin and Kashmiri chili to hearty beef stew. Last week, for example, I enjoyed tomato-based comfort with a bowl of vegan pasta e ceci and was enthralled by the depth of flavor in chicken pozole rojo. Of course, the ephemeral nature of Brothmonger means those soups are already off the menu, but the latest offerings (vegan black bean and Hungarian mushroom) sound just as enticing.
Mayfly Market: 1327 Arch St., North Side; 412/322-1300, mayflypgh.com, brothmonger.com, instagram.com/brothmonger