Top Pittsburgh Suburbs
With 127 suburban communities in Allegheny County as well as the popular bedroom communities of Murrysville and Cranberry and Peters townships, deciding which one is right for you can be daunting. To help you choose, we break it down by the numbers.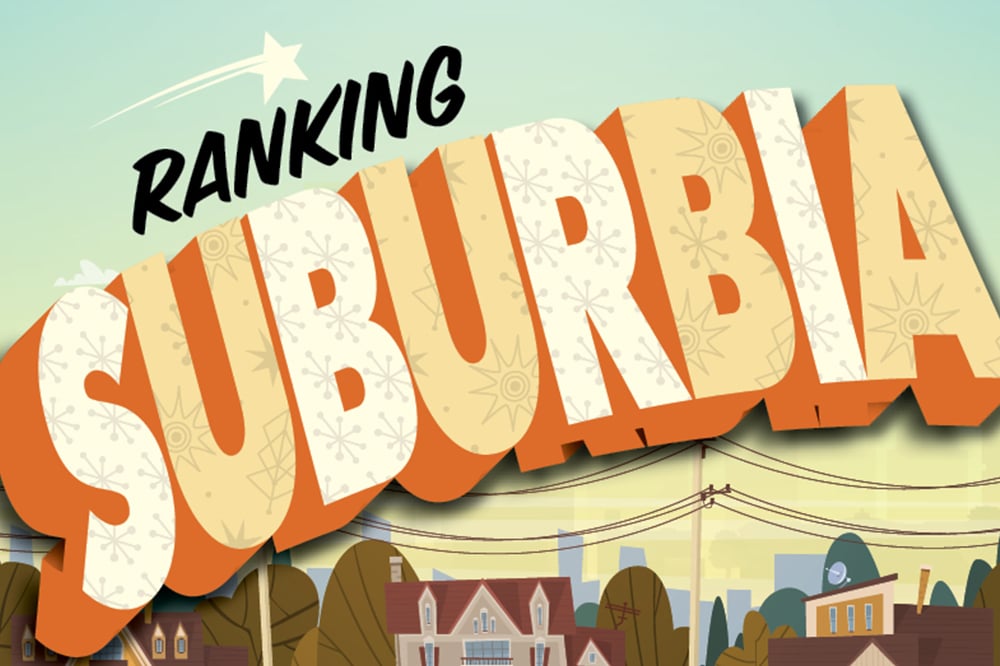 Let's say you love Pittsburgh a lot — just not enough to live there. That's where Ranking Suburbia comes in.
For the second year, Pittsburgh Magazine presents its objective-as-possible report card grading 130 suburban municipalities outside the city limits, including all of the municipalities within the borders of Allegheny County and three major bedroom communities beyond them — Cranberry Township and Peter Township and Murrysville.
In determining which suburbs rise to the top of our listings, we again rely on a grading scale that focuses on five factors people consider most when looking for a place to live:
Housing
Neighborhood
Schools
Safety
Traffic
Suburbs are ranked from best to worst on 28 individual data points, all collected from official sources to ensure apples-to-apples measurement for every place. Those rankings are added up to calculate which suburb is best in each of our five categories. Then we tally each suburb's five category ranks to determine the overall winners.
Because we recognize that cost is a consideration for almost everyone buying a home, and different neighborhoods represent vastly different markets, we present a winner in each of three categories:
Best Affluent Suburb among places where the 2018 median home sale price was more than $250,000.
Best Affordable Suburb where last year's median home sale price was less than $100,000.
Best Traditional Suburb for everywhere in between.
Each of the five main categories uses many of the same vital statistics featured in last year's inaugural edition of "Ranking Suburbia," simply updated with the latest numbers. But this year's model also throws in some new measuring sticks and methodology. It's all explained in detail below.
Winners are determined by giving equal weight to each of the five categories; in other words, having the best schools won't put a suburb on top if its traffic ranking is lousy. In fact, none of the places that topped the five individual categories wound up among the three Best Suburbs overall. To find out which suburbs did best in each individual category, read on.
The Categories
HOUSING
This category looks at two key measures of the strength and vitality of the housing market: turnover and price appreciation. More specifically, it considers what share of all available homes were sold last year and how much the median sales price in 2018 exceeded the median sales price in the same suburb five years earlier. It also ranks suburbs higher for having lower real estate taxes (combined municipal and school). Finally, it looks at what percentage of homes have been built since 2000.
Winner: Ohio Township
Real estate agents are busy in this North Hills community. It's packed with new housing – 40% of it built since 2000 — and sales last year represented 8% of the entire housing inventory, a bigger turnover than anywhere except the condos-only enclave of Pennsbury Village. Relatively low taxes and a strong 39% increase in median home prices over five years puts Ohio Township on top for housing.
How to use this charts: Use your computer's "Find" function to search for your community. Hover over icons below chart to download or open in full screen.
NEIGHBORHOOD
Who are the people in your neighborhood, and what can they do there? This category ranks suburbs by the share of adults with college degrees and by voter turnout in the last election. It considers how much of each suburb is covered by trees, and whether it has a farmers market and a community library. Finally, in addition to last year's score for coffee shops, this year we recognize another quaffable amenity: microbreweries and craft distilleries.
Winner: Mount Lebanon
This repeat winner ranks first in coffee shops with four, first in farmers markets with three, and has a microbrewery to boot — plus an excellent library for quieter evenings. About 70% of adult residents have a college diploma, and almost the same percentage vote, both measures ranking 10th overall. While it may not top the table in tree cover — at 48% it's just about average — Mount Lebanon gets excellent grades everywhere else.
SCHOOLS
We compare all 46 school districts represented by our 130 municipalities using a variety of measures parents care about. Do they offer a full-day kindergarten and district-wide pre-K? The category also includes average SAT scores, the number of Advanced Placement and other rigorous courses offered to high school students, and finally, the share of students who have taken at least one rigorous class by the time they graduate, a new state measure that rewards schools that encourage all of their students to strive.
Winner: Chartiers Valley
Very few public school districts in the area can boast as many rigorous high school course offerings as Chartiers Valley, which ranks fifth with 25. And fewer still can match the South Hills district's performance in getting its students to take advantage of those courses, with 93% participating, which ranks third overall. With decent SAT scores and a full-day kindergarten program, Chartiers Valley is worth a closer look for house-hunting parents.
SAFETY
This category relies on crime statistics that police departments report every year to the Pennsylvania State Police, following a methodology set by the FBI. For eight types of criminal incidents — homicides, sex-related offenses, robberies, assaults, property crimes such as burglary, arsons, drug crimes and
alcohol-related crimes — it averages the last two years' totals, then converts each into a standardized crime rate per 100,000 residents.
Winner: Fox Chapel
Police in Fox Chapel, like police in most suburbs, have not had a reported homicide in the last two years. Nor have they had to investigate a robbery, a rape, an arson or indeed much else outside of the occasional property crime. With only three reported assaults, four alcohol-related criminal incidents and zero drug arrests in two years, wealthy Fox Chapel wins the category a second year running with a nearly spotless rap sheet.
TRAFFIC
How safely and efficiently do people in town get around? This category considers the ratio of car crashes per mile of road to reveal which suburb has the safest streets. It also looks at three commuting statistics from the U.S. Census: average commute length, what percent of residents walk to their job and what percent take public transportation. It also ranks each suburb based on whether a paved bike trail runs through it.
Winner Ingram
Tucked against the city's West End, Ingram is a short hop from Downtown, which goes a long way toward explaining its average commute of under 23 minutes — sixth overall. While it has no bike trail, Ingram does straddle the West Busway and so is served by three separate PAT routes, enabling 13% of commuters to rely on public transit. Nearly 3% walk to work, also a relatively high share. No major thoroughfares traverse Ingram, meaning traffic stays light and accidents are relatively few.
Winners in Overall Categories
Click below to read more about each.
BEST AFFLUENT SUBURB: EDGEWORTH
BEST TRADITIONAL SUBURB: MURRYSVILLE
BEST AFFORDABLE SUBURB: HARRISON
Using the Charts
Suburbs ranked from highest to lowest
Categories used in our ranking
Subcategories to establish rankings
Final rank derived from average grades
The complete data chart ⇓
Sources
Allegheny County Division of Computer Services (tree cover data)
Allegheny County Library Association
Allegheny County Office of the Treasurer (2019 municipal and school district property tax millages)
Allegheny, Butler, Washington and Westmoreland county elections bureaus (2018 voter registration and turnout numbers)
College Board (2018 school district SAT averages)
Pennsylvania State Police (2017 and 2018 crime statistics for local police departments)
Pennsylvania Department of Agriculture (2019 Farmers Market Nutrition Program participants)
Pennsylvania Department of Education (2018-19 high school rigorous courses offered and % of students taking them, also full-day kindergarten and pre-K enrollment by district)
Pennsylvania Department of Revenue (municipal road miles for crashes-per-mile ratio) Pennsylvania Liquor Control Board (licensed distilleries and microbreweries)
RealSTATS (median home sale prices and number of qualifying arm's-length sales for 2018 and 2013) U.S. Census American Community Survey (2017 educational attainment, commuting, and housing age data)
Western Pennsylvania Regional Data Center (2018 Allegheny County crash statistics, 2015 crash statistics for outlying communities, 2018 restaurant listings for coffee shops)