This Pittsburgh Couple's Cookie Table Was Part of a Sweet Tradition
Meet the winner of our biannual cookie table contest.
Angela Iacoboni & Connor Cranston
July 10, 2021 • Lakeside Venues, Uniontown
When Angela Iacoboni told Connor Cranston about the Pittsburgh cookie table tradition, Connor, who was raised in Brooklyn, New York, and Lancaster, Pennsylvania, thought she was kidding.
"It sounded too good to be true, having a table of cookies at the wedding," Connor says.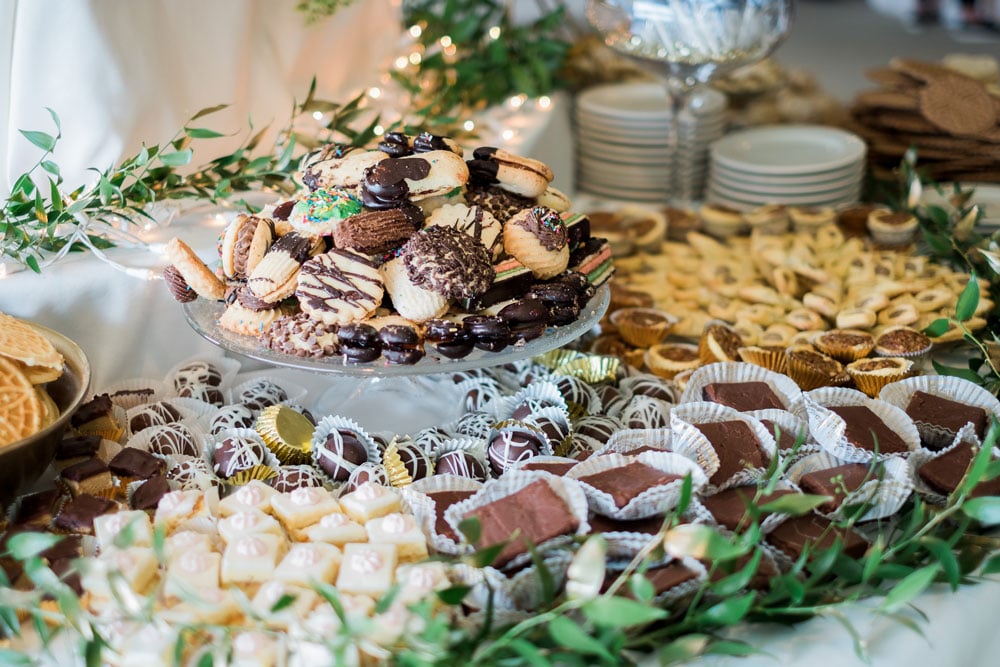 A table of cookies sounds like an understatement when looking at the couple's display. Their July 10, 2021 wedding at Lakeside Venues in Uniontown, Fayette County, featured more than 7,000 cookies of 50 varieties. Complementing the setup was a custom sign describing the cookie tradition made by the couple with the help of AR Workshop in Robinson.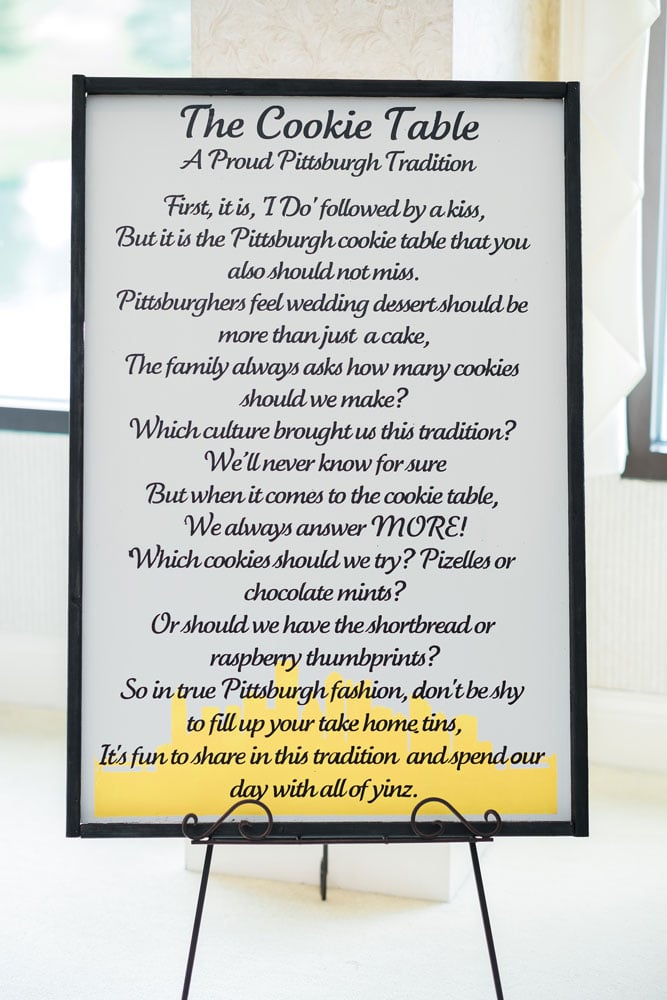 Angela, who grew up in Belle Vernon, says she always knew she wanted a cookie table at her wedding. Her parents had a full room of cookies at their wedding, and she grew up watching her grandfather, a baker, make cookies for friends' and family members' weddings. After he retired, he bought a commercial mixer for his home to make sure his grandchildren always had baked treats.
While the cookie table honored the Pittsburgh tradition, it also celebrated many of Angela's grandfather's recipes, including his famous chocolate chip squares. Angela's mom and grandma made many of the cookies and, once Connor's family learned of the custom, they pitched in their own recipes. His mother's Italian rainbow cookies made from his aunt's recipe were a hit among the guests; other favorites included peach cookies, New York black-and-white cookies and biscotti.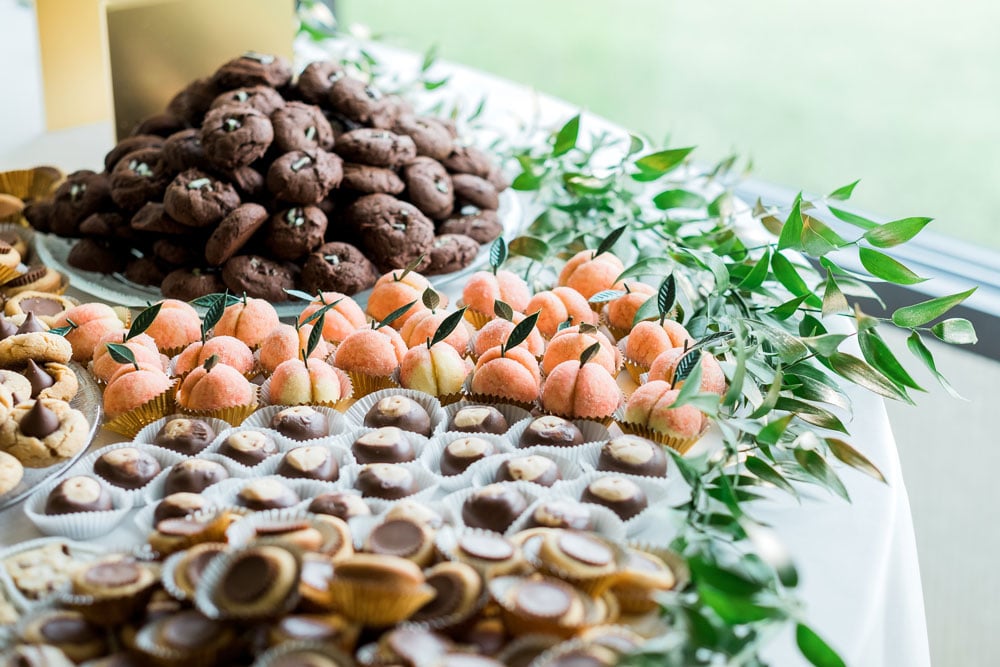 The couple adds that the cookie table became a great way for the two families to celebrate and share their histories. And now that Connor knows about the Pittsburgh cookie table, he has high expectations.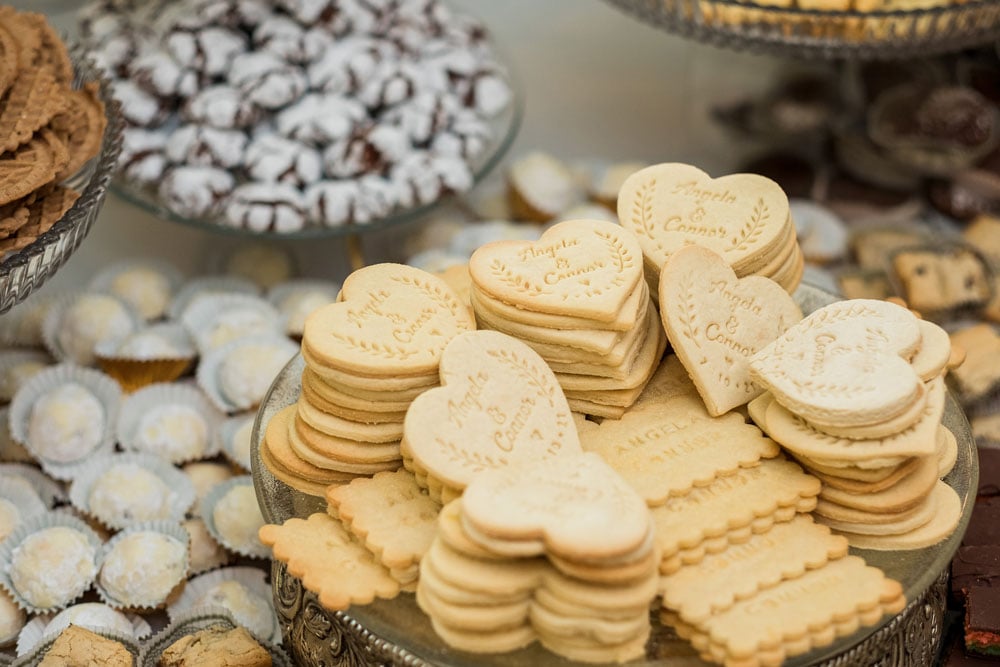 "It's something I always look for in Pittsburgh weddings now, so I'm making sure to scout that out when I get to a venue," he says. "[Angela] has two sisters, so when they get married we're looking forward to doing it all over again."