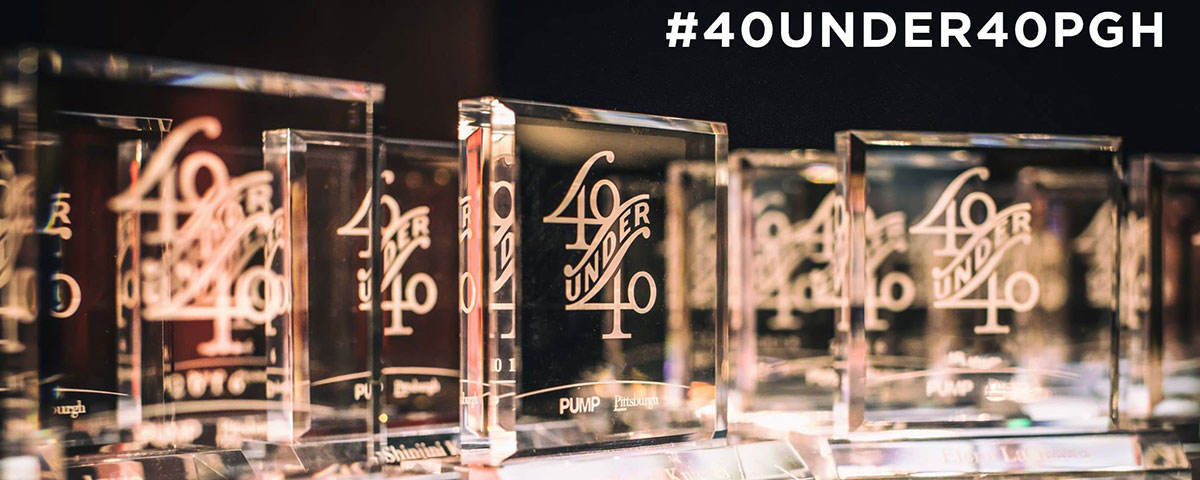 2021 40 Under 40 Honorees
Taylor Abel, 37
Assistant Professor of Neurological Surgery, UPMC
Felicity Ansonia Williams, 32
Programs and Policy Manager, Special Assistant to the President and CEO, Hill Community Development Corporation
Leighann Bacher, 30
Editorial Director, Renegade Marketing
Abraxis T. Blackwell, 37
Vendor Manager and AVP, Citizens Bank
Syed Bukhari, 32
Cardiac Amyloidosis Fellow, UPMC
Carlos Carmona, 38
Disaster Program Manager, American Red Cross
Corey Carrington, 33
Creative Director, Deeper Than Grits Studios
Aleya Crable Jennings, 34
AVP and Group Account Director, Gatesman Agency
Mel Cronin, 35
Regional Expansion Program Manager, 412 Food Rescue
Rebekah Diaz, 38
Manager of Community Engagement and IDEA Initiatives, Pittsburgh Opera
Founder and Principal Consultant, Diaz Inclusion Consulting
Angelique Drakeford, 36
Principal and Chief Academic Officer, Urban Academy Charter School
Utibe R. Essien, 36
Assistant Professor of Medicine, University of Pittsburgh
Danielle Filip, 36
Vice President of Operations, Sign Language Interpreting Professionals (SLIP)
Christina Flewellen-Howze, 36
Creative Arts Coach, Painting with Purpose
Boaz Frankel, 39
Writer and Filmmaker
Anthony Hall, 37
School Counselor and Football Coach, Pittsburgh Public Schools
Orlando R. Houston, 35
Financial Consultant, Equitable Advisors
Eric Howze, 37
Founder, No Hero Left Behind
Chancelor Humphrey, 32
Photographer and Social Media Influencer
Shenay D. Jeffrey, 32
Assistant Director, University of Pittsburgh
Chardaè Jones, 32
Mayor, Braddock Borough
Business Analyst, HM Health Solutions
Ray Nell Jones, 32
CEO-Founder, The Allignment Chapter Corporation
Michael R. Komo, 32
Attorney, LGBT ERG Chair, and Professional Development Manager, K&L Gates LLP
Summer Lee, 33
Legislator, Pennsylvania House of Representatives
Jeremy C. McCool, 27
Assistant Professor of Digital/Global Media, West Chester University
Kacy McGill, 28
Co-Director and Co-Founder, Pittsburgh Restaurant Workers Aid
Constance Mulbah, 31
Education Liaison, Diversified Care Management, LLC
Co-Founder, Kpo'ma Women
Haji Muya, 30
Founder, LKF Ent Films
League Director, Pittsburgh Soccer in the Community
Anette Nance, 29
Director of Partnerships for Family Support, University of Pittsburgh – Office of Child Development
Cue Perry, 35
Visual Artist
Maya Ragavan, 35
Assistant Professor of Pediatrics, University of Pittsburgh and Children's Hospital of Pittsburgh of UPMC
Ernest Rajakone, 28
Chief Justice Ralph J. Cappy Scholar, University of Pittsburgh School of Law
Shiv Sethi, 34
Private Wealth Advisor, Merrill Private Wealth
Monique Smith, 33
Faculty Affairs Manager, University of Pittsburgh
Taylor Stessney, 29
Co-Founder, Pittsburgh Restaurant Workers Aid
Alydia R. Thomas, 31
Associate Director of Residence Life for Student Development and Programming, Duquesne University
Andre Turner, 37
Chief Supervisor, Shuman Juvenile Detention Center
Cheyenne Tyler, 36
Manager of School Initiatives, United Way of Southwestern Pennsylvania
Kyle C. Webster, 38
General Counsel, ACTION-Housing, Inc.
Ashlee Yingling Wallace, 39
Senior Vice President, Marketing, Communications and Customer Experience, Pittsburgh International Airport
23rd Annual 40 Under 40 Awards
Thursday, Nov. 4, 2021
6 – 10 p.m.
Rivers Casino Event Center
Each year, Pittsburgh Magazine and PUMP recognize 40 outstanding individuals under the age of 40 whose creativity, vision and passion enrich the Pittsburgh region.
Join us as we honor the 2021 Class of 40 Under 40 for their achievements.
Table sponsorships are also available and include congratulatory ads in Pittsburgh Magazine. For more information, contact Jeanne Moore-Yount, Advertising Director, 412.304.0915, jmoore-yount@pittsburghmagazine.com
This event is 21+, no children will be admitted.
$75 Individual Tickets Include:- Admission to the 40 Under 40 Celebration
– Heavy Hors d'oeuvres
– Complimentary beer, cocktails and wine (full cash bar is also available)
$675 Reserved Table + Honoree Includes:- Admission for nine guests
– Reserved table of nine for 40 Under 40 Celebration
– Tables seat 10 total so there is an open seat for the honoree
– Heavy Hors d'oeuvres
– Complimentary beer, cocktails and wine (full cash bar is also available)
$750 Reserved Table- Admission for ten guests
– Reserved table of ten for 40 Under 40 Celebration
– Heavy Hors d'oeuvres
– Complimentary beer, cocktails and wine (full cash bar is also available)
#40under40pgh