Two Curious Cats Get a Home Renovation
Blue and Splinter love that their owners are remodeling their home. This means new rooms to explore and lots of action every day.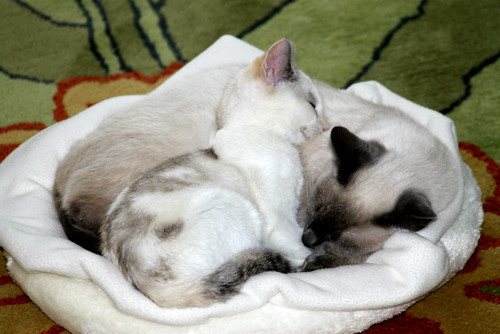 (Photos from Karl and Nancy Larson)
Pets at a Glance
Pets: Blue, a Siamese cat, and Splinter, a mixed-breed Siamese
Ages: 6 and 5½, respectively
Location: North East, Pennsylvania
Owners: Karl and Nancy Larson; he's a retired General Electric technical leader, she's a retired architect
New home for people and pets: In 2005, Karl and Nancy Larson purchased a lot and started building a new home. The home's shell was finished in 2009, and the couple moved in to do the rest of the work themselves.
They're still working on their home and plan to finish it this spring. During the early years of the home improvement process, the retired couple decided they needed some company around the house. First they adopted Blue, and about a month later they adopted another cat, Splinter, from an animal shelter.
Cat spaces: The Larsons decided not to create any spaces specifically for the cats while building their home. Instead, they added beds that can be moved around to keep things interesting and fresh for the cats.
Related: Portable Cat Furniture and Beds for the Home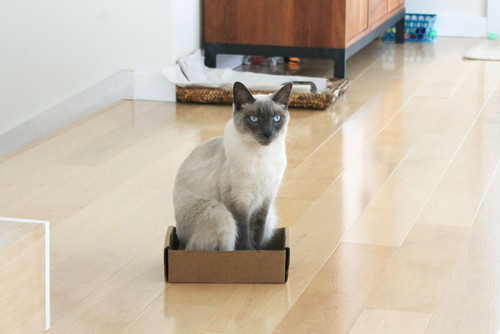 Meet Blue: This blue Siamese — hence his name — joined the Larsons when he was 9 months old. He reminds them more of a dog than a cat. He goes in search of objects, such as pencils and bubble wrap, and drags them upstairs to show off his finds. He likes sitting in boxes, no matter the size.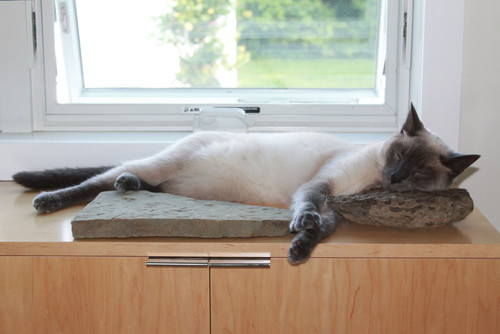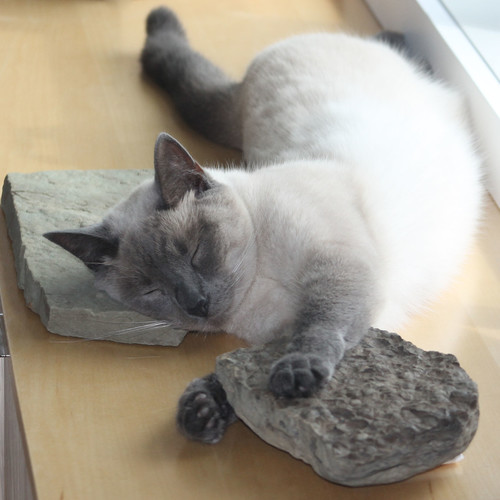 His favorite spot: After a day of following the Larsons around while they work on their home, Blue curls up with his favorite fossils, found on the Larsons' property.
In this south-facing window, he can stretch out and soak up the sun.

Meet Splinter: Splinter rode home with the Larsons at 3 months old, sitting on Nancy's lap the whole way. When the new kitten arrived, Blue fluffed up his tail and howled at the sight of her. But soon enough, Splinter had won Blue over and the two were found snuggling in a little round cat bed.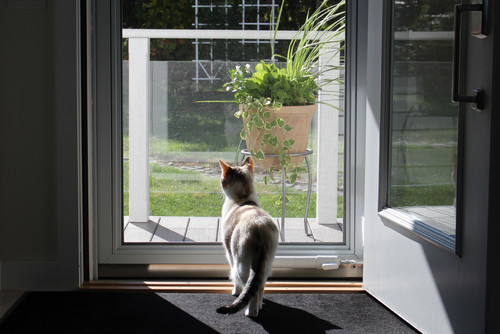 Outdoor cat at heart: Splinter's name comes from the fact that she was originally found in a wood pile. And it seems she has yet to lose her love of the outdoors. She's mostly an indoor cat, but she enjoys spending time on the porch and standing in front of the window watching bunnies, chipmunks and birds scurry around.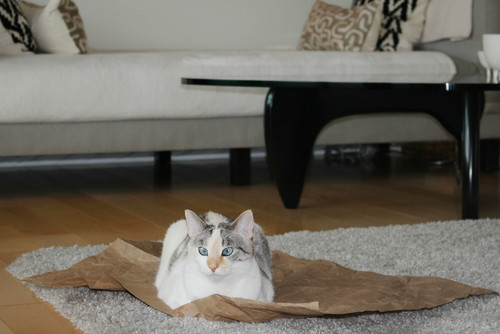 Her favorite spot: Splinter enjoys giant sheets of kraft paper that arrive with packages. She also loves it when the whole family spends time together on the second-floor side porch.
Designer pet: Splinter often creates little round beds to nap in, and the Larsons have dubbed her "the designer cat." Nancy says she carves out a circular spot any time she lies down on a blanket or a towel.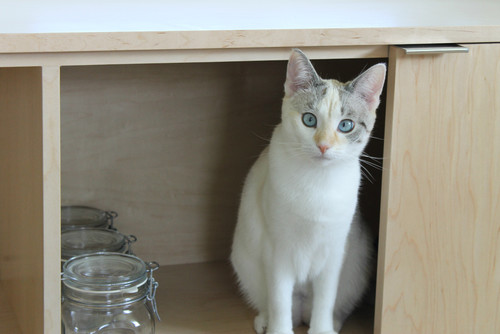 Building buddy: When the Larsons worked on the kitchen, Splinter hopped up inside the cabinets to get a closer look at their progress. "We think they like the building and work going on," Nancy says. "They like their environment to be dynamic."
Related: Contact Local Kitchen and Bath Remodelers
Each time a room gets torn apart and put back together, it creates opportunities for the cats to explore. They make tracks through little piles of sawdust. They pounce on a tarp that covers the floor. And, of course, they must examine an old chair in its new spot.
"On a daily basis and at work, they are endlessly entertaining," Nancy says.