Home How-To: Give Your Bedroom a Summer Makeover
Use these five tips to create the perfect warm-weather sanctuary.
Most of us swap out our clothing every season to accommodate the changing weather, so why not give our bedrooms the same treatment? This summer, when you put away your jackets and heavy wool sweaters, go ahead and add your flannel sheets and heavy goose down duvet to the storage closet.
Not only is your bedroom your sanctuary, it's probably the space where you spend the most time. All the more reason to give it a summer makeover — both aesthetic and practical. Warm days are on the horizon, so here are five ways to create your perfect summer bedroom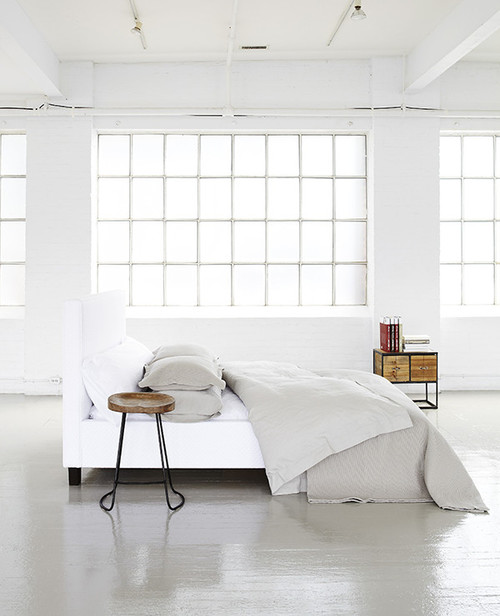 Try linen sheets. Linen, made from the fibers of the flax plant, is known for its exceptional coolness and is absolutely irreplaceable in hot weather. The loose weave of this natural fabric makes it more breathable and capable of absorbing moisture, which allows air to flow through the sheet easily and prevent it from clinging to your skin while you sleep. (Read: <em>less perspiration!</em>) All this translates into cooler nights.
And nowadays you can buy pre-washed linen, which gives a naturally rumpled look and embodies the casual relaxation of summer. Who wants to break out the iron in the dog days of summer anyway?
Bonus points for the strength and durability of the material itself. A quality pure linen or linen-cotton blend is built to stand the test of time, only softening with use and ensuring a trusty summer bedding staple ready for action year after year.

Lighten up your duvet. Your puffy goose down down duvet may be a sweet, cloudy savior when you can see your breath in the air, but the summer months call for a "lighter jacket."
If you like sleeping with a duvet year-round, investing in a lighter-weight one for when temperatures soar is a must. Summer-weight duvets have significantly less down fill than year-round models, which will minimize heat retention while maximizing comfort. They're thinner and lighter to be sure, but they retain all the glorious benefits of sleeping under goose down.
If the idea of a traditional duvet still seems too toasty, a down blanket is an excellent alternative, providing the luxury of down in an even lighter package. Look for a 100 percent cotton shell and 100 percent down fill. (Down is advantageous over feathers because there are no quills to poke through and no odor.)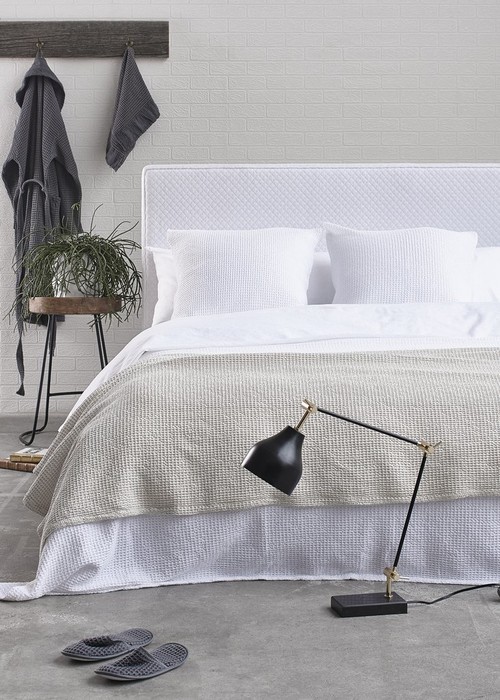 Go old-school. Back in the day before down duvets and comforters became common, people slept with flat sheets and cotton blankets. It's still a winning combination for those unbearably muggy summer nights and a simple way to stay cool. Forget the heavy wool knits and rich furs of winter — look for 100 percent cotton in a looser weave to achieve ideal summer comfort and a light and breezy look.
Cotton blankets are as beautiful as they are useful, coming in all sorts of waves like waffle and matelassé, as well as classic knits. That means you can keep yours at the foot of the bed all year as a decorative accent.

Make a statement with seasonal accents. There's no easier way to update your bedroom decor than with bold statement pieces like toss pillows and throw blankets that scream summer. A bright floral pillow, for example, will help transition a space from one season to the next at little cost.
Do away with dark colors and heavy textures and pivot the aesthetic to bright hues or soft pastels. Look for pillows featuring summery floral prints or iconic cabana stripes. A soft pastel throw in cotton or linen will complete your bedroom's summerscape.
Related: Floral Accent Pillows Perfect for Summer

Let in the light. When giving your bedroom a seasonal makeover, take advantage of the best summer has to offer by introducing sheer, gauzy curtains to create a bright and airy atmosphere, allowing the sunlight to pour in. Adorn your bedroom with plants and flowers to bring the life of summer indoors.
Related: Window Curtains That Let Air and Sunlight In