Hanging Beds Foster Family Fun in a Pittsburgh Bonus Room
Local interior designer Lauren Levant creates a playroom that's high on whimsey, yet totally functional.
After a busy Pittsburgh family moved into their house, they thought a lot about how to make the most of their second-floor bonus room. The parents have hectic work schedules and two kids under 4, so they decided to create a fun and relaxing space for the whole family.
To do that, the family worked with principal designer Lauren Levant, who gave them a room that's a little bohemian, a little eclectic and undeniably whimsical.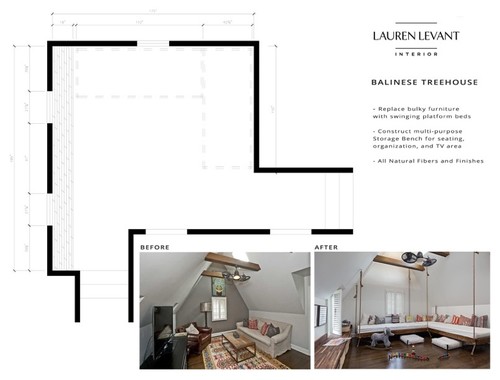 "After" photos by Dave Bryce
Room at a Glance:
Who uses the space: A family with two young children
Location: Pittsburgh
Size: 225 square feet (20.9 square meters)
Designer: Lauren Levant
The room is off the second-floor hallway and has always been a casual sitting area, even for the previous homeowners. It's situated among bedrooms and bathrooms, and the current homeowners wanted to make this an easy place to relax and spend time with the kids.

In the new design, the obvious standout feature is the hanging beds.
"The design concept is inspired by a Balinese treehouse," Levant says. This allowed her to take advantage of the 15-foot cathedral ceilings while introducing a sense of playfulness.
The beds and bench are made of natural pine and walnut, and were custom-built for the room. The mattresses were also custom-sized to fit the space, and are slightly wider than a twin mattress. The beds are held up by woven sisal ropes attached to the ceiling beams.
As you can imagine, hanging beds from a ceiling requires precision.
Levant and her contractor used shackles and eyebolts to attach the ropes to the joists. It took time and tweaking to get the ropes secured in a way that allowed them to hang straight down while looking natural and being safe.
"We relied heavily on the skill and the creativity of the contractor installing these pieces to make sure that the support was there for each corner. This was a great example of how designers and contractors can work together to solve problems and overcome challenges in order to deliver the client something very special," Levant says.
But no one will be swinging from these ropes anytime soon. The beds are discreetly secured to the walls, making them stable for playing, sitting and napping.
Hanging bed frames and ropes: custom, Carolina Hanging Beds; wall paint: White Fence, Ecos Paints

Levant wanted to include the entire family in the design process. The homeowners added their artwork and floor pillows. The children added their toys, and Levant gave them cute storage baskets to help them stay organized.
Touches like this make the room more personal and eclectic.
"Knowing that this is a place where real life would be happening, there was no need as the designer to try to control every detail," she says.

Another important, although not obvious, aspect of this bonus room is that it is natural and organic. Throughout the house, this young family has used paint and floor stains that are low in volatile organic compounds. Additionally, furnishings, such as the accent pillows and area rugs, are made of natural fibers. In this room, the mattresses are made of 100 percent organic latex and are enclosed in washable organic slipcovers.
The number of clients requesting healthy design options is increasing, and luckily manufacturers are responding to that increased interest, Levant says.
"Vendors have begun to consider what we sleep on, what fabrics are against our skin and what chemicals [and] off-gasses are released into the air," she says.
As a designer, she's onboard with this trend. "All of this is having a positive impact on our clients, but particularly on those who have environmental sensitivities or allergies," she says.
Mattresses: Tranquility with Dunlop filling, Savvy Rest; mattress cover fabric: Montauk Cloud, Kravet Basics; pillow stuffing: wool bolus, Organic Cotton Plus