THE TIPPING POINT – what will it take for YOU to leave home?
When:
March 18, 2020 @ 7:00 pm – March 29, 2020 @ 9:30 pm
2020-03-18T19:00:00-04:00
2020-03-29T21:30:00-04:00
Where:
25 Carrick Ave
25 Carrick Ave
Pittsburgh, PA 15210
USA

Cost:
$30 general admission, $25 senior/student
Contact:
Beth Corning
412-441-3273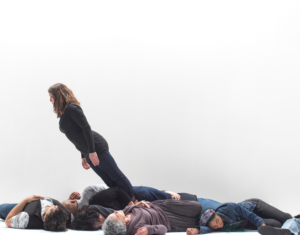 CORNINGWORKS, the critically acclaimed dancetheater company known for it's unique GLUE FACTORY PROJECT series – original full evening length dance theater productions created on nationally & internationally renowned performers over the age of 40 – pushes its artistic and geographic boundaries with its 2020 production, THE TIPPING POINT— what will it take for YOU to leave home? – A provocative wake up call at a time of crisis. In an unprecedented artistic collaboration with the renowned international humanitarian organization, DOCTORS WITHOUT BORDERS / Medecins Sans Frontieres, this raw, multi-disciplinary, and intimately sized audience–immersive work taps the growing global refugee experience. An attempt to personalize the headlines — a tangible "WHAT IF" — less about "them" and more about "how this could be us."
Corning creates a moving, theatrical re-imagining of DOCTORS WITHOUT BORDERS critically acclaimed FORCED FROM HOME exhibition, combined with her poignant, provocative, critically acclaimed dancetheater creativity.
Performed by 14 local dancer/actors and an international group of re-settled refugees, and led by a team of critically acclaimed theater designers, the work runs for 10 performances for intimately sized groups of 40 per show (20 per time slot). The work plays throughout 25 CARRICK – a new and unique Center for the Arts located in the former Birmingham United Church of Christ in Pittsburgh's South Hilltop community of Carrick.
Photo by Frank Walsh
March 18 – 29, 2020
Wed. 3/18 at 7 pm (PAY WHAT YOU CAN ADMISSION) & 8 pm
Thur. 3/19 at 7 pm & 8 pm
Fri. 3/20 at 7 pm & 8 pm
Sat. 3/21 at 7 pm & 8 pm
Sun. 3/22 at 7 pm & 8 pm
Wed 3/25 at (7 pm SOLD OUT) 8 pm
Thur 3/26 at 7 pm & 8 pm
Fri. 3/27 at 7 pm & 8 pm
Sat. 3/28 at 7 pm (8 pm SOLD OUT)
Sun. 3/29 at 7 pm & 8 pm
$30 general admission, $25 senior/student
WAIVER OF LIABILITY & DISCLOSURE STATEMENT
As a ticket holder for CORNINGWORKS, THE TIPPING POINT – what would make YOU leave home? I hereby release CORNINGWORKS, HEARCORP, CARRICK 25, its owners, agents and employees, from any and all liability for damage and personal injury to me that may arise from my participation in this audience-immersive production. I specifically release the Released Parties for any claims related to their negligence, that is, their failure to use reasonable care in any way in the design or operation of this production.
As a ticket buyer/holder I understand:
• This production is suitable for ages 16 & up
• This production may be difficult for patrons with mobility issues, as it requires audience to move up and down stairs and traverse through uneven terrain
• This production may trigger physiological issues