Julius Caesar by William Shakespeare
When:
September 22, 2019 @ 2:00 pm – 3:30 pm
2019-09-22T14:00:00-04:00
2019-09-22T15:30:00-04:00
Where:
Frick, Arsenal and Highland Parks
Pittsburgh
PA 15217
USA

Cost:
Free admission. $15 donation suggested
Contact:
Yvonne Hudson
412-512-0589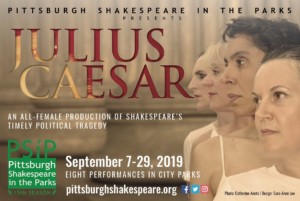 Victorious Caesar desires the Crown. Not everyone agrees. How does rebellion threaten a democracy? The lines between loyalty and power blur as Rome's leaders consider the consequences of conspiracy and war in Shakespeare's timeless political drama, JULIUS CAESAR. Celebrating its 15th anniversary season, PITTSBURGH SHAKESPEARE IN THE PARKS stages its first all-female with JULIUS CAESAR for eight performances, Sept. 7-29 at 2 pm on Saturdays and Sundays. The opening performance on Sat., Sept. 7 in Frick Park is part of the annual Britsburgh Festival, celebrating British culture and heritage. JULIUS CAESAR runs approximately 90 minutes with no intermission. Arrive early to enjoy family pre-show at 1:30 and the story of the play before the show begins. Pittsburgh-based actor and director Elena Alexandatros directs PSIP's second production of a history play. Lisa Liebering is production designer, creating costumes and props for outdoor performances in Frick, Highland and Arsenal Parks. A compressed, fast-paced version drawn from Shakespeare's First Folio, The Tragedie of Julius Caesar recounts the triumphant post-war return of General Caesar to Rome and the rebellion against his ascent to power. Following PSIP's first and hugely successful history HENRY V in 2016, JULIUS CAESAR is the 14th Shakespeare play to be produced by the group founded in 2005 by Jennifer Tober, artistic director. Additional pre-show events include the story of play, told by Alan Irvine, and a special tribute for PSIP's 15th season on September 7. A kid's program activity page will be provided to the youngest fans. The all-female cast of JULIUS CAESAR is led by four actors who bring extensive experience in interpreting classics to their roles. Irene Alby of Morgantown, West Virginia, appears in the title role of Caesar. Three Pittsburgh actors fill the other leading roles. Harper York portrays Marc Antony, Caesar's likely successor. Shammen McCune portrays Brutus and Lisa Ann Goldsmith is seen as Cassius, his co-conspirator. (McCune and Goldsmith appear courtesy of Actors' Equity Association.) Ensemble members appearing in multiple roles are: Gretchen Breslawski, Sarah Carleton, Kristin Conrad, Melissa Franklin, Kalee George, and Jessica Pierson-Turner. Elena Alexandratos, director, is well-known as an actress and singer in Pittsburgh where she has graced nearly every theater stage. Recently, Elena was seen as Mrs. Bennet in Pittsburgh Public Theater's 44th Season opener Pride and Prejudice. Longtime PSIP collaborator Lisa Leibering serves as Production and Costume designer. Tonya Lynn stages combat. Shakespeare's history play JULIUS CAESAR was first performed by an all-male company of players in 1599 in the Globe Theatre in London. Timeless themes of loyalty, betrayal and ambition collide in a story based on the history of Octavius Caesar's growing power and territories while the men in the Roman Senate begin to become uncomfortable. Picnics, children of all ages, and friendly dogs are welcome! JULIUS CAESAR is presented with support from The Fine Foundation, among others, including audience members who contribute online and at performances to keep admission free for all.
Sponsor: Pittsburgh Shakespeare in the Parks